Why Your Small Business Should Offer Employee Benefits
Next to salary, employee benefits are the most important tool for attracting and retaining employees. If your goal is to get the right people in the right roles, a group insurance plan can help — regardless of company size.
The Benefit of Group Benefits for Small Businesses
Pardon the pun, but when it comes to owning and managing a small business, a benefits plan should be top-of-mind.
If you need convincing about the importance of providing your employees with benefits, look no further than the infographic below.
For instance, consider that 3 out of 4 plan members agree that they would not move to a job that did not include a health benefit.

Group Insurance Solutions for the Small
Business Owner
Benefits by Design (BBD) Inc. began as a small business ourselves. We're intimately familiar with the struggles small businesses face, like hiring new employees, taxes, and managing benefit costs.
The first step to choosing an insurance plan that works for your organization is to determine the goal for your benefits program.
Goal #1: Competitive, Comprehensive Package
If your goal is to provide a competitive, yet comprehensive benefits package, a traditional fully-insured plan might be your best bet. A benefits plan like this could include:
Of course, other options are available, and much of it will depend on your needs and that of your employees'. Work to determine your benefits philosophy (the "why" behind your benefits plan) to figure out what kind of plan will work best for you and your employees.
Goal #2: Lower-Cost Plan with Flexible Options
If your goal is to provide small business benefits competitively, ideally with some lower-cost options, a hybrid arrangement might work for you. A hybrid arrangement includes some fully-insured benefits (for example, life insurance) and other self-funded benefits (for example, dental).
Instead of offering Dental Insurance, you could provide coverage for dental benefits through a Health Care Spending Account (HCSA). As the employer, you set the amount that each employee receives in their HCSA. Employees then have a choice in how and when to use their spending account dollars.
Goal #3: Flexible Plan Design but a Cost-Contained Solution
A spending account can be a great place to start an employee benefits plan. A Health Care Spending Account provides flexible health and dental coverage and an element of self-choice for employees. As an employer, you set the budget for each employee, and they choose how to spend their benefits dollars. The Canada Revenue Agency governs eligible expenses for Health Care Spending Accounts.
Deciding to offer employee benefits (and choosing the right ones) isn't easy. A group-focused Advisor can help!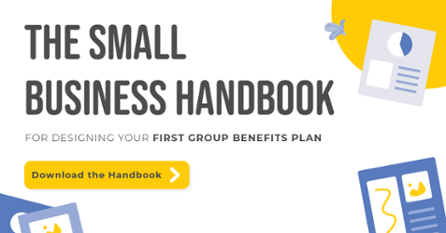 Infographic: Why You Should Offer Employee Benefits
Next to salary, employee benefits are the most important tool in attracting and retaining staff.
Hard Hitting Facts:
4 in 5 want benefits more than a pay raise.
57% of employees said their benefits plan is more important than ever before.
3 out of 4 plan members (76%) agree that they would not move to a job that did not include a health benefit.3
Giving Employees a Dollar More an Hour:
Employees take home significantly less after federal and provincial deductions (only $0.60 in some tax brackets).
That extra $1.00 an hour will cost you about $1.29 an hour after you pay the government.
There are no guarantees employees will save money for emergencies, leaving both them and you in a tight spot should the worst happen.
Giving Employees Benefits Coverage:
Employees get ongoing support to stay physically and mentally healthy, plus protection when they need it most.
You'll be able to save your business money by deducting eligible expenses on your taxes.
It's simple math — $1.00 paid in premium = $1.00 worth of health benefits. Benefits received by employees are often tax-free.
The Benefit of Benefits
Protect Your People — Benefits provide coverage for people who may unexpectedly face an emergency or critical illness.
Promote Their Health — Benefits promote or encourage an employ-ee to maintain a state of health, wealth, and happiness.
Attract and Retain Talent — A group benefits plan protects employees and their families and is a direct way of showing you are an employer of choice — to the team you currently have, and to anyone considering working for you.
Strengthen Your Business — Access to benefits means employees lose less time to extended illnesses or health concerns, increasing efficiency, and driving a stronger business.
If you enjoyed this article, you might also like